Coffee and Chocolate Tasting Flight - Pre Order
A journey of taste, pairing some of H. R. Higgins finest coffees with incredible truffles.
We are thrilled to bring back this Coffee and Chocolate Tasting Flight in collaboration with The Highland Chocolatier, Iain Burnett, this year adding our very popular Christmas Blend and pairing them with a new Cinnamon praline.
Iain is a world-class, multi-award winning chocolate artisan whose Velvet Truffles have won over 40 prestigious awards including World Gold at the International Chocolate Awards - twice!
Together, we have carefully crafted this journey of taste, pairing some of H. R. Higgins finest coffees with Iain's incredible truffles to create this unique and exciting experience for you to enjoy at home.
H. R. Higgins has been roasting the highest quality coffee for over 80 years, providing a range of single origins coffees from across the globe as well as our own signature blends. Though we have been working with coffee for most of our lives, we have been amazed by how this project has helped us to enjoy our coffees in an entirely new way.
Our full tasting flight comprises of 20 handmade truffles as well as 125g of four expertly paired coffees, pre-ground for filter or pour-over. Each flight will be accompanied with full tasting notes and beautifully presented in a H.R. Higgins gift box.
The coffee and chocolate flight contains the following pairings:
Costa Rica San Jose paired with a Milk Velvet Truffle
Brazil Yellow Bourbon paired with a Dark Velvet Praline
Christmas Blend - paired with a Cinnamon Praline
Creole Blend paired with a Dark Velvet Truffle
We are also delighted to bring you our very own Mocha Velvet truffle! Milk chocolate, fresh Scottish cream and a shot of espresso using our signature Tanzania Kibo Chagga.
Luxury Coffee and Chocolate Tasting Flight

If you are giving this as a gift and concerned your recipient doesn't have the coffee making accessories, then this one's for you. 
As well as all the above you will get a tetra foldable coffee dripper, and a pack of filter papers, so they can make coffee in our favourite way - the pour over.
*Please note that this is for Pre- Order Only. The last available date to order this coffee and chocolate tasting flight is the 6th Dec 2023. All truffles will be handmade to the order and shipped the following week after the cut off date to ensure optimum freshness.
If you have any specific questions regarding ingredients and allergens, please do not hesitate to contact customer service.
Best to be enjoyed within 4 weeks of purchase.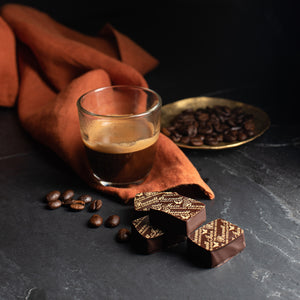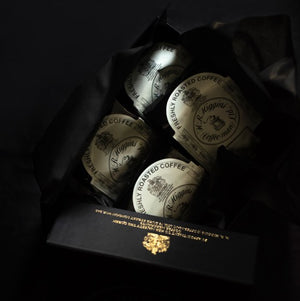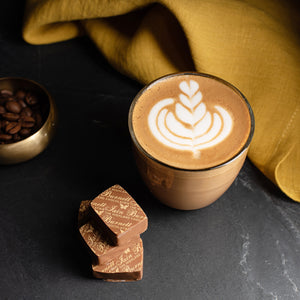 My grandfather had a vision. Back in the 1930s when he was working as a manager at the Kenya Coffee Company coffee was not seen as a speciality at all. He wanted to start his own business and in his diary he wrote:
There's something undeniably captivating about the aroma of freshly brewed coffee.
In this blog post, we'll explore why fresh coffee reigns supreme over its counterparts and why the roasting date takes precedence over the best-before date on all of our H.R.Higgins coffee bags.