A story that began in 1942
On 1st April 1942, H. R. Higgins (Coffee-man) Ltd was born. Working from a top floor room at 43 South Molton Street in London's West End with a hand driven 7lb roaster,Harold Rees Higgins, together with his daughter Audrey, aged 16, began providing coffee for wholesale customers. At the height of the Second World War, Harold roasted coffee by day, working as an air raid warden and undertaking fire watching duties by night.
42 South Molton Street
After 4 years of providing coffee to only wholesale customers, Harold obtained the lease of the ground floor and basement of number 42 South Molton Street where he and his daughter, Miss Audrey, opened our first retail shop. He installed a 28lb Whitmee Roaster in the basement of the shop, where he roasted each day sending the aroma out into Oxford Street.
Creole Blend
In response to customer requests, Harold created Creole Blendin 1950. Since then, Creole Blend has been a permanent feature on our roasting schedule and continues to be one of our most popular coffees.
Mr. Tony joins the family
In August 1953, at just 15 years old, Mr Tony joined the family business and began working for the company full time, roasting and cupping for his father.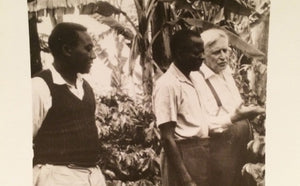 Tanzania
During a trip to Tanzania in 1960, Harold met with coffee producers from the Kibo Chagga farm on the slopes of Kilimanjaro. It was here that H. R. Higgins became the first British coffee roaster to buy directly from the farmers themselves, developing a relationship that still stands to this day.
A new era
After more than two decades at the helm, in 1966 Harold handed over the day to day running of the business to his children. Mr Tony became managing director and Miss Audrey continued as Company Secretary. Harold remained a presence at South Molton Street, visiting the shop most days.
1968
A sad passing
In early April of 1968, Harold Rees Higgins sadly passed away.
1979
Royal Appointment
H. R. Higgins received the Royal Warrant in 1979, becoming Coffee Merchants by Appointment to Her Majesty the Queen.
1982
A new generation
1982 saw the third generation of the Higgins family join the company, with David learning roasting and cupping skills from Mr Tony.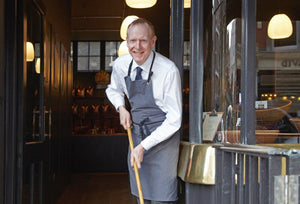 A big year
1986 proved to be a busy year for H. R. Higgins as we relocated to our current home at 79 Duke Street and opened a new roastery facility in Waltham Abbey. This allowed us to expand, introducing tea to our product range in a project spearheaded by David Higgins who studied a tea apprenticeship with a tea importer.
Passing the torch
In 2004, David took over from his father Mr Tony, becoming managing director of H. R. Higgins.
A welcome to Nick
H. R. Higgins welcomed Nick Hartley into the business in 2013 to help David Higgins expand and develop the business.
A modern twist
In 2015, Duke Street was fully renovated. The project was led by fashion and textile designer Ann Louise Roswald who joined the H. R. Higgins team as Creative Director in 2019. Ann Louise has injected a modern twist to H. R. Higgins, including designing the signature Higgins coffee bean print, introducing our incredibly popular range of tea caddies and developing our packaging.
Yorkshire Roastery
After nearly 40 years, our Waltham Abbey site closed in 2020 and we moved to our brand new purpose built roastery in North Yorkshire, an area with family ties for Mr Tony and David.
In 2022, we will be celebrating 80 years of H. R. Higgins.