Chemex Coffee Filter Papers Size FS-100
Make a smooth filter coffee with these Chemex FS-100 filter papers. The papers are scientifically designed, bonded filters. Using them withe your CHEMEX® Coffee maker will ensure the brewing process will provide the perfect cup of coffee.
The cone-shape of the filters guarantees uniform extraction. In addition to this, the papers are 20-30% thicker than non CHEMEX® filter papers. Therefore bitter elements and grounds are kept out of your cup.
The Chemex FS-100 filter papers are designed to be used with the CHEMEX® 6 Cup Classic Coffee maker. However they will fit most other cone-shaped filter coffeemakers. Each box contains 100 filter papers.
Brewing Tips
Pre-soak the filter paper with hot water and then discard the water. Add one portion of finely ground coffee per cup. Pour on just enough hot (not boiling) water so that all the grounds are soaked. Wait for 1 minute while the grounds swell before slowly pouring the rest of the water on in a circular motion.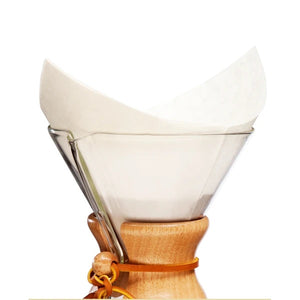 My grandfather had a vision. Back in the 1930s when he was working as a manager at the Kenya Coffee Company coffee was not seen as a speciality at all. He wanted to start his own business and in his diary he wrote:
There's something undeniably captivating about the aroma of freshly brewed coffee.
In this blog post, we'll explore why fresh coffee reigns supreme over its counterparts and why the roasting date takes precedence over the best-before date on all of our H.R.Higgins coffee bags.