Health and Harmony Tea
A combination of powerful herbs and fruits, this herbal tea promotes natural balance, particularly for women
Flavour Notes
Lavender, Warming
The Tea
A combination of powerful herbs and fruits, this tea promotes natural balance, particularly for women.
Among the ingredients is Field Horsetail, used in traditional medicine for centuries to heal wounds and stop bleeding, along with another staple of holistic practice, Lady's Mantle. Lady's Mantle is often known as a digestive remedy, as well being used to aid skin irritations. Enhanced with lavender blossoms, this infusion creates a sumptuous warming tea that is caffeine free.
Recommended brew method
It is important when brewing herbal teas to use boiling water. Use one level teaspoon which is around 3 grams per cup and if you are making a pot, add an extra spoonful of tea. Steep the tea for between 5 and 8 minutes to ensure a full infusion. Best served without milk.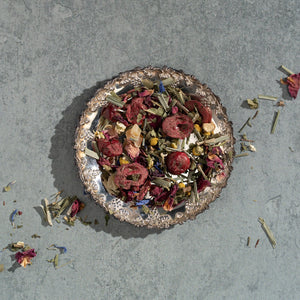 My grandfather had a vision. Back in the 1930s when he was working as a manager at the Kenya Coffee Company coffee was not seen as a speciality at all. He wanted to start his own business and in his diary he wrote:
There's something undeniably captivating about the aroma of freshly brewed coffee.
In this blog post, we'll explore why fresh coffee reigns supreme over its counterparts and why the roasting date takes precedence over the best-before date on all of our H.R.Higgins coffee bags.