Chemex Coffee Filter - Glass Handle
The Chemex Glass Handle Filter Coffee Maker is an elegant coffee maker that will deliver the purest flavour experience as well as looking stylish in your kitchen. 
The hour glass shaped maker is made from high quality, heat resistant glass. The non-porous Borosilicate glass which will not absorb odours or chemical residues.
A flawless blend of design and function, the Chemex has been recognised for both. It holds a permanent position in New York's Corning Museum of Glass and was also selected by the Illinois Institute of Technology as part of the 100 best designed products of modern times.
Brewing Tips
Pre-soak the filter paper with hot water and then discard. Add one portion of finely ground coffee per cup. 
Pour on just enough hot (not boiling) water so that all the grounds are soaked and wait for 1 minute while the grounds swell. 
Slowly pour over the rest of the water in a circular motion.
Great for cold brews as well as hot coffee.
Use CHEMEX® Pre-folded FS-100 square filter papers with your Chemex 6 Cup Glass Handle Filter Coffee Maker.
We hope to get these back in stock as soon as possible, but in the meantime we have our Chemex Classic Coffee Filter.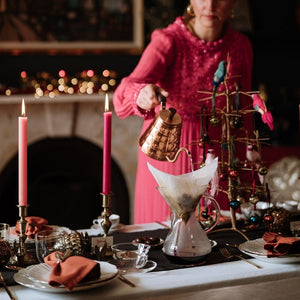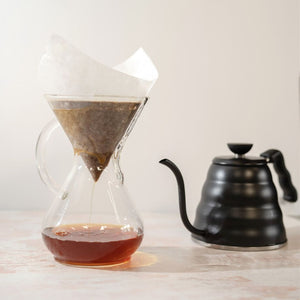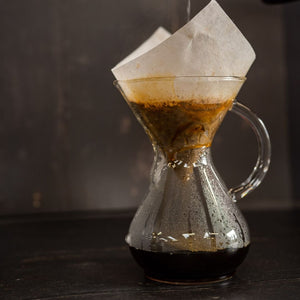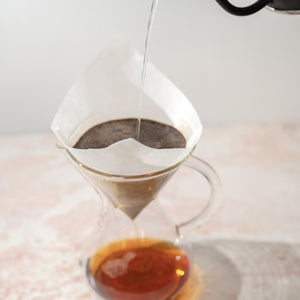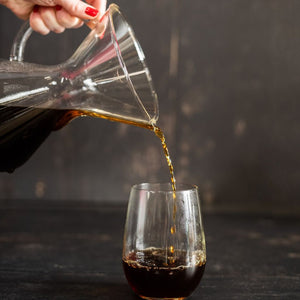 My grandfather had a vision. Back in the 1930s when he was working as a manager at the Kenya Coffee Company coffee was not seen as a speciality at all. He wanted to start his own business and in his diary he wrote:
There's something undeniably captivating about the aroma of freshly brewed coffee.
In this blog post, we'll explore why fresh coffee reigns supreme over its counterparts and why the roasting date takes precedence over the best-before date on all of our H.R.Higgins coffee bags.