Digital Gift Card
Give the gift of Higgins with our H. R. Higgins Digital Gift vouchers.
Redeemable online at www.hrhiggins.co.uk, our gift vouchers are available in various amounts.
Please note that our gift vouchers are valid for 24 months from the date of purchase.

You will receive an email with the voucher on the same day of purchase.
Terms and Conditions:

The value of this H. R. Higgins (Coffee-man) Ltd e-gift card can be redeemed through our website

www.hrhiggins.co.uk

only. The voucher or balance of any purchase made may not be exchanged for cash or redeemed against the purchase of another voucher. The voucher is valid for 24 months only, or until the expiry date shown below. The voucher cannot be used in conjunction with any online offer. H. R. Higgins (Coffee-man) Ltd cannot be held responsible if this gift voucher is lost, stolen destroyed or used without permission and no replacement will be provided under these circumstances. H. R. Higgins (Coffee-man) Ltd reserves the right to update or change these terms and conditions at any times. This does not affect your legal rights. Use of this voucher constitutes acceptance of our Terms and Conditions.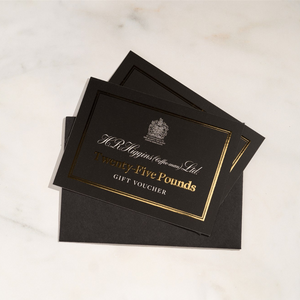 My grandfather had a vision. Back in the 1930s when he was working as a manager at the Kenya Coffee Company coffee was not seen as a speciality at all. He wanted to start his own business and in his diary he wrote:
There's something undeniably captivating about the aroma of freshly brewed coffee.
In this blog post, we'll explore why fresh coffee reigns supreme over its counterparts and why the roasting date takes precedence over the best-before date on all of our H.R.Higgins coffee bags.