Hario Copper Coffee Measuring Scoop
Measure coffee in style with this fantastic addition to the Hario Copper V60 brewing equipment.
Made of the highest quality copper, the striking design of the Hario Copper Coffee Measuring Scoop is inspired by the copper V60 range and complements the V60 copper filter cone and V60 Copper kettle perfectly.
The scoop has a capacity of 12g and is extremely reliable, making it easy for you to elevate your brewing at home and ensure that you never get your recipe wrong again.
Please be aware that this product is only washable by hand.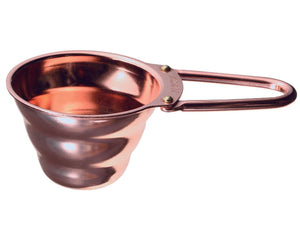 My grandfather had a vision. Back in the 1930s when he was working as a manager at the Kenya Coffee Company coffee was not seen as a speciality at all. He wanted to start his own business and in his diary he wrote:
There's something undeniably captivating about the aroma of freshly brewed coffee.
In this blog post, we'll explore why fresh coffee reigns supreme over its counterparts and why the roasting date takes precedence over the best-before date on all of our H.R.Higgins coffee bags.