Hario V60 Swan Neck Drip Kettle - Matte Black
For precision pouring the Hario V60 Matte Black Coffee Kettle is a design masterpiece. Made in Japan it combines tremendous quality, style and precision in one.
Used by Baristas worldwide for its reliability and spout precision which enables you to pour water in a controlled stream or slow drip fashion. This stylish and chic kettle is bound to attract attention on your sideboard or coffee table.
The pour over brewing method produces a superior coffee. To make a clean, crisp cup, slowly pour hot water onto the coffee grounds in a circular motion. Always ensure that the water does not touch the filter papers.
This kettle is suitable for a hob induction, gas and electric.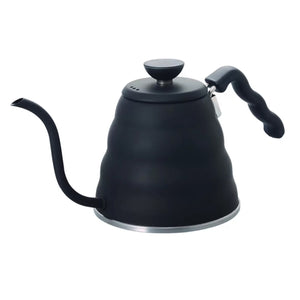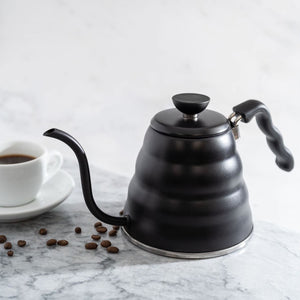 My grandfather had a vision. Back in the 1930s when he was working as a manager at the Kenya Coffee Company coffee was not seen as a speciality at all. He wanted to start his own business and in his diary he wrote:
There's something undeniably captivating about the aroma of freshly brewed coffee.
In this blog post, we'll explore why fresh coffee reigns supreme over its counterparts and why the roasting date takes precedence over the best-before date on all of our H.R.Higgins coffee bags.