Hario V60 Craft Coffee Maker Kit
The perfect V60 starter kit from Hario.
This V60 Craft Coffee Kit features everything you'll need to elevate your coffee making.
The Hario V60 filter cone will provide you with the absolute best extraction from your coffee grounds. The familiar ridged cone of this dripper enhances your cup to best effect.
Easy to use and easy to clean up, it can brew up to 1-4 cups per brew session. Lightweight and durable, it's a stylish addition to your brew bar or kitchen countertop.
The set includes a plastic V60 Dripper in Size 02, a 600ml Serving Jug, 1 pack of 40 Filter Papers in size 02 and 1 coffee scoop.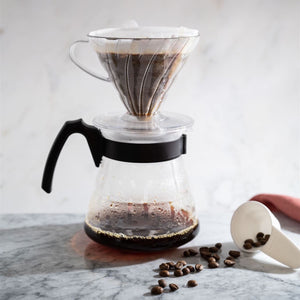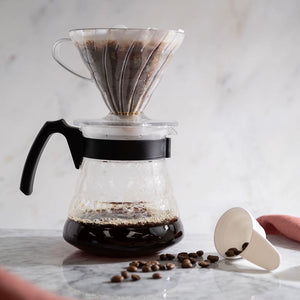 My grandfather had a vision. Back in the 1930s when he was working as a manager at the Kenya Coffee Company coffee was not seen as a speciality at all. He wanted to start his own business and in his diary he wrote:
There's something undeniably captivating about the aroma of freshly brewed coffee.
In this blog post, we'll explore why fresh coffee reigns supreme over its counterparts and why the roasting date takes precedence over the best-before date on all of our H.R.Higgins coffee bags.