Japanese Cherry Blossom Tea
Deliciously fruity with fragrant floral notes.
Origin
Japan
Flavour Notes
Cherry, Floral
The Tea
Inspired by the Japanese Cherry Blossom, our Japanese Cherry tea is bright and refreshing.
We blend the finest quality silver-tipped green tea with rose petals and cherry flavouring to create our Japanese Cherry Blossom Tea. The result is a deliciously fruity cup with delicate and fragrant floral notes.
Not only is this tea incredibly moreish, its packed with antioxidants and is a great source of vitamin C.
Recommended brew method
We recommend brewing Japanese Cherry tea for 3 minutes at 85°C. Best enjoyed black. Serve hot or enjoy iced.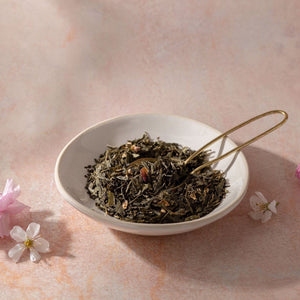 My grandfather had a vision. Back in the 1930s when he was working as a manager at the Kenya Coffee Company coffee was not seen as a speciality at all. He wanted to start his own business and in his diary he wrote:
There's something undeniably captivating about the aroma of freshly brewed coffee.
In this blog post, we'll explore why fresh coffee reigns supreme over its counterparts and why the roasting date takes precedence over the best-before date on all of our H.R.Higgins coffee bags.