Masala Chai Tea
A fiery and aromatic blend of velvety-smooth tea and warming spices.
Origin
India
Flavour Notes
Ginger, Citrus, Allspice, Cardamom, Cloves, Star Anise, Nutmeg
The Tea
Inspired by the traditional chaiwalas on the streets of India, our Masala Chai offers the familiar flavours of tradition Chai tea with the highest quality ingredients.
Velvety smooth with a soothing warmth of delicious spices, our Masala Chai Tea blend will satisfy even the most discerning drinkers looking for something different.
Masala Chai is traditionally black Indian tea mixed with enticing stimulating aromatic spices and served in small earthenware cups.
This blend is an aromatic punch of smooth black tea mixed with fiery ginger, citrus peels, allspice, whole cardamom, spicy cloves, star anise and earthy nutmeg.
Recommended brew method
We recommend brewing Masala Chai for 3 minutes at 100°C. Enjoy black, or with a splash of milk.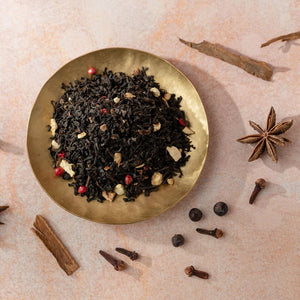 My grandfather had a vision. Back in the 1930s when he was working as a manager at the Kenya Coffee Company coffee was not seen as a speciality at all. He wanted to start his own business and in his diary he wrote:
There's something undeniably captivating about the aroma of freshly brewed coffee.
In this blog post, we'll explore why fresh coffee reigns supreme over its counterparts and why the roasting date takes precedence over the best-before date on all of our H.R.Higgins coffee bags.