Sikkim Tippy Golden Flowery Orange Pekoe Tea
A rare, fine tea with delicate floral notes.
Origin
India
Region
Sikkim
Flavour Notes
Floral, Delicate, Fragrant, Sweet
The Tea
This Sikkim Tippy Golden Flowery Orange Pekoe is a rare Indian tea of the highest quality. 
Sikkim lies high in the Himalayas between Darjeeling and Nepal. There is only a small tea garden there, Temi, which produces very high quality leaf tea.
The term 'tippy' when it comes to tea refers to the quality of the tea. If it is 'tippy', the tea is of higher grade and quality. The 'tips' of the tea refer to the bud which is picked. The best teas only contain the top two leaves and one bud from the bush, and if a tea is 'tippy', this means that it contains more buds which have the most concentrated and freshest flavours.
The leaves are very fragrant, creating a delicate and floral cup.
Recommended brew method
We recommend brewing this Sikkim tea for 3 minutes at 95°C. A further 2 infusions are possible. Best enjoyed black.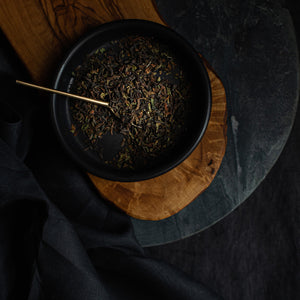 My grandfather had a vision. Back in the 1930s when he was working as a manager at the Kenya Coffee Company coffee was not seen as a speciality at all. He wanted to start his own business and in his diary he wrote:
There's something undeniably captivating about the aroma of freshly brewed coffee.
In this blog post, we'll explore why fresh coffee reigns supreme over its counterparts and why the roasting date takes precedence over the best-before date on all of our H.R.Higgins coffee bags.