Tanzania Kibo Chagga Coffee
A true H. R. Higgins Signature.
Tasting Notes
Plum, raspberry, soft red apple acidity and a smooth chocolate finish
Origin
Tanzania
Region
Kilimanjaro
Altitude
1,200m
Process
Washed
Recommended brew method
We recommend brewing this Tanzanian coffee for filter and best enjoyed without milk.
The Coffee
Tanzania Kibo Chagga is undoubtedly a H.R. Higgins signature and has been a well-loved part of our range for many years.
Just after the Second World War, Harold Higgins tasted, almost by chance, a coffee which seemed to him to have tremendous possibilities. An East African Chagga coffee with a kinship in flavour with Colombia coffees from South America, which were unavailable at the time.
He discovered the beans were grown by African farmers on the slopes of Kilimanjaro and began a quest to source this unique coffee. Thwarted by the closed shop wholesale system of his regular sources he journeyed to Moshi at the foot of Mt Kilimanjaro to meet the farmers.
Absconding from an organised trip to Nairobi he boarded a local bus to be welcomed by the farmers, indigenous Chagga people, and became the first coffee merchant in London to buy directly from African farmers, a relationship which still stands to this day.
While profiling this new crop of Tanzania Kibo Chagga David Atkinson, our head roaster, along with David Higgins has experimented with many roast variations in order to find its best characteristics as we know how special this coffee is.

Ultimately they found it was at its best when medium roasted, therefore we have made the decision to only offer one roast rather than two like previously, as we believe that this highlights all the hard work that the farmers do without compromise.
Roasted medium, you will enjoy notes of Plum and raspberry with a soft red apple acidity and a smooth chocolate finish.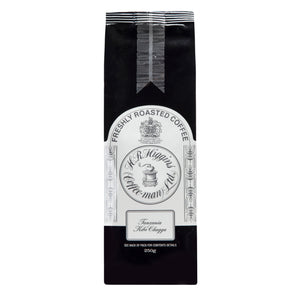 My grandfather had a vision. Back in the 1930s when he was working as a manager at the Kenya Coffee Company coffee was not seen as a speciality at all. He wanted to start his own business and in his diary he wrote:
There's something undeniably captivating about the aroma of freshly brewed coffee.
In this blog post, we'll explore why fresh coffee reigns supreme over its counterparts and why the roasting date takes precedence over the best-before date on all of our H.R.Higgins coffee bags.