The Breakfast Tea Selection Gift Box
Our Breakfast Tea Gift Selection Boxes are an expertly crafted collection of speciality teas, designed for those who cannot begin their day without a delicious cup of the perfect blend. Choose from the standard tea gift selection box or our luxury tea gift selection box, which includes four H.R. Higgins unique tea caddies.
Breakfast Tea Gift Selection Box - £37.50
Beautifully presented in a black gift box, our Breakfast Tea Gift Selection Box contains four 125g bags of tea and comes with information about each tea.
Luxury Breakfast Tea Gift Selection Box - £68.00
The same beautifully presented gift box but here each of your four teas is contained within it's own unique H.R. Higgins tea caddy. Specially created by fashion and textile designer and H. R. Higgins Creative Director, Ann Louise Roswald, these collectable containers make a great addition to any kitchen, the perfect way to store your H. R. Higgins favourites.
This selection of four breakfast teas has been created to help you discover the perfect accompaniment to the most important meal of the day.
For a special touch, why not add gift wrapping?
The Gift Box
Created to invigorate your morning, our Higgins Breakfast Blend tea is bright, powerful and full flavoured. 
One of our most classic and iconic blends, our Breakfast Tea is the perfect accompaniment to the most important meal of the day.
We thought long and hard about this blend and what it would need to satisfy, choosing teas from Assam, Ceylon and Kenya. Combined, these teas create a wonderfully uplifting start to the day.
The robust and full-bodied flavour of Kenyan tea is complemented by malty Assam, with Ceylon for an energising freshness.
The small leaves of this blend allow the water to infuse a larger surface area of tea very quickly.
Higgins Breakfast Blend is brisk with a hint of sweetness.
Taking its name from the street of our shop in Mayfair, Duke Street Blend is one of our best sellers.
A favourite of Mr Tony's sister, Miss Audrey, this blend is wonderfully versatile and can be enjoyed at any time of day, whether you're looking for a strong, brisk cup to wake up with or something full flavoured to complement a sweet treat of an afternoon.
We blend Assam and Ceylon teas for an invigorating cup. Ceylon provides bright, refreshing notes while the Assam gives a strong and malty aftertaste. This produces a deep colour in the cup and a vibrant flavour that fills the mouth.
Duke Street is a perfectly balanced blend of Broken Orange Pekoe Leaves. Because of their smaller surface area, these leaves allow the water to infuse a larger surface area of tea very quickly.
Assam Belseri Tippy Golden Broken Orange Pekoe
Assam Broken Orange Pekoe tea is perfect for the discerning breakfast tea drinker.
Grown on the Belseri estate in the lush northern bank of the Brahmaputra valley, this tea is known widely for its inherently malty and powerful character.
The Estate is fed with Organic inputs in order to produce rich liquoring pure healthy teas. It produces its own compost and regenerates the soil with natural inputs. Predators like birds and spiders fight the natural pests, in an environment which is close to nature and non-invasive by man made fertilizers.
Assam Broken Orange Pekoe tea is bright in the cup with a strong, malty flavour and brisk aftertaste.
Ceylon Orange Pekoe
Ceylon Orange Pekoe is a delicately light, fine-grade tea from the wonderful Gardens of Sri Lanka.
Manufactured by the Falcon tea factory, this estate is progressive in its approach to staff welfare, working under the Ethical Tea Partnership. 
This Ceylon Orange Pekoe is the largest leaf orange Pekoe grade. The large leaves slowly releases its bright, zesty, refreshing flavour during infusion.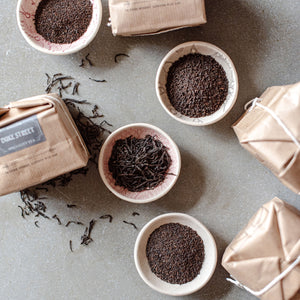 My grandfather had a vision. Back in the 1930s when he was working as a manager at the Kenya Coffee Company coffee was not seen as a speciality at all. He wanted to start his own business and in his diary he wrote:
There's something undeniably captivating about the aroma of freshly brewed coffee.
In this blog post, we'll explore why fresh coffee reigns supreme over its counterparts and why the roasting date takes precedence over the best-before date on all of our H.R.Higgins coffee bags.