The Cafetière Coffee Gift Box
Our Cafetière Gift box is a specially crafted selection of coffees that work perfectly for Cafetière, French Press or Plunger Pot.
Beautifully presented in a black gift box, our Cafetière Selection contains two 250g valve bags of coffee, a coffee caddy and information about each coffee.
For a special touch, why not add gift wrapping?
The Gift Box
Creole Blend
Creole Blend is one of our bestsellers and has been a frequent feature of our daily roasting schedule from the very early years of our business.
Created by Harold Higgins in the 1950s, this blend was designed for customers who were asking for stronger, darker blends but without any harsh bitterness or acidity.
Creole Blend is a mixture of South American beans from Colombia and Brazil, roasted dark to produce a coffee that is powerful, rich and very smooth.
With notes of dark chocolate and rich cacao, this blend has become very popular as an after-dinner coffee, but the refreshing blackberry finish makes it perfect for all occasions.
Brazil Yellow Bourbon Dark 
This Yellow Bourbon coffee grown is on the Daterra Farm. The farm is made up of 216 micro farms, each bringing its own individual characteristics. The Daterra Farm Cooperative are world leaders in sustainable production and innovation in the coffee industry. They were the first farm in Brazil to become Rainforest Alliance certified.
We roast this Brazil Yellow Bourbon dark to bring out its delectable smoothness and flavours of rich dark chocolate with blackcurrant and plum notes.
Coffee Caddy
Store your coffee in style with our beautifully designed coffee caddy. 
Ann Louise created an original coffee bean print used for the tiles and wrapping paper in the shop and cafe. This striking print has now been translated to a coffee caddy, which forms part of an exclusive Ann Louise Roswald collection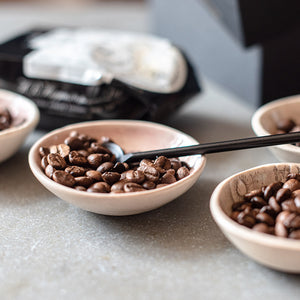 My grandfather had a vision. Back in the 1930s when he was working as a manager at the Kenya Coffee Company coffee was not seen as a speciality at all. He wanted to start his own business and in his diary he wrote:
There's something undeniably captivating about the aroma of freshly brewed coffee.
In this blog post, we'll explore why fresh coffee reigns supreme over its counterparts and why the roasting date takes precedence over the best-before date on all of our H.R.Higgins coffee bags.