Vanilla Rooibos Tea
Accentuating the natural flavours Rooibos for a sweet and soft cup.
Origin
South Africa
Flavour Notes
Malty, Sweet, Honey, Vanilla
The Tea
Introducing Vanilla Rooibos.
This new infusion accentuates the natural flavours of traditional Rooibos tea, creating a sweet and soft cup that is easier on the palate. A treat for the tastebuds without the guilt!
Rooibos is a delicious naturally caffeine free alternative to tea. 
Rooibos, or Red Bush tea is grown in South Africa. The Rooibos plant is Aspalathus linereas, a legume from the Camellia genus. Cultivation began in South Africa in the 1930s but the plant has been used for medical purposes for several centuries.
After harvesting, the leaves laid out in the hot sun to dry and oxidize. This turns them from green to the iconic rich red which we associate with Rooibos, creating a spectacular deep orange colour when brewed. 
Rooibos is high in antioxidants and is caffeine free so can be enjoyed at any time of day. It is low in tannins, meaning it lacks bitterness. Rooibos is well-rounded and full bodied.
Our Vanilla Rooibos tea is perfect for those who prefer a milder, sweeter flavour and is the ideal 'just before bedtime' drink.
Recommended brew method
We recommend brewing Rooibos at 100°C for 5 - 8 minutes. Best served without milk. Use one level teaspoon which is around 3 grams per cup and if you are making a pot, add an extra spoonful of tea.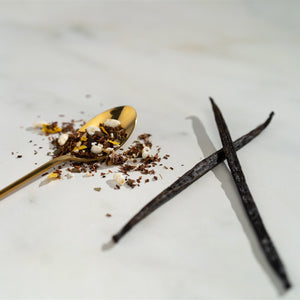 My grandfather had a vision. Back in the 1930s when he was working as a manager at the Kenya Coffee Company coffee was not seen as a speciality at all. He wanted to start his own business and in his diary he wrote:
There's something undeniably captivating about the aroma of freshly brewed coffee.
In this blog post, we'll explore why fresh coffee reigns supreme over its counterparts and why the roasting date takes precedence over the best-before date on all of our H.R.Higgins coffee bags.