Velvet Truffles Dark SÃO TOMÉ
"Worlds Best Dark Truffle"
Dark Velvet Truffles of pure ganache.
The 'World's Best Dark Truffle'
These dark velvet truffles were the winner of the "World's Best Dark Truffle".
They are Iain Burnetts, The Highland Chocolatier's signature unenrobed Dark Velvet Truffles of pure ganache.
Their exquisite velvet texture, deep, dark flavour profile and unique presentation without a shell, has graced the tables of highly acclaimed chefs and royalty. 
Intense São Tomé single origin dark chocolate, with naturally occurring notes of spices and fruits, is expertly balanced with fresh Scottish cream and then dusted lightly with rich cocoa powder. 12 truffles per pack.
Pairs perfectly with our bestselling Creole coffee for the ultimate after dinner experience.
If you have any specific questions regarding ingredients and allergens, please do not hesitate to contact customer service.
Ingredients: sugar, cocoa mass, fresh CREAM, cocoa butter, BUTTER, HAZELNUTS, strawberry, raspberry, lime, blackcurrant, passionfruit, whole & skimmed MILK powders, MILK whey powder, invert sugar, molasses, emulsifier: SOYA lecithin, spices, tea, coffee, honey, liquorice, natural flavourings, colours E100/101/102/104/ 110/120/124/129/132/ 133/142/171/172.
Dark chocolate contains minimum solids 70% cocoa, milk chocolate min. 35% cocoa/14% milk solids, white chocolate min. 27% milk solids.
This item is vegetarian and free from alcohol and artificial flavourings.
Best to be enjoyed within 4 weeks of purchase.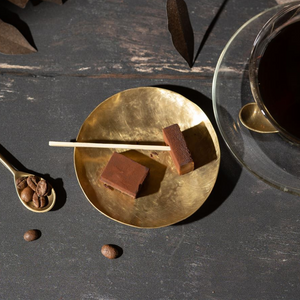 My grandfather had a vision. Back in the 1930s when he was working as a manager at the Kenya Coffee Company coffee was not seen as a speciality at all. He wanted to start his own business and in his diary he wrote:
There's something undeniably captivating about the aroma of freshly brewed coffee.
In this blog post, we'll explore why fresh coffee reigns supreme over its counterparts and why the roasting date takes precedence over the best-before date on all of our H.R.Higgins coffee bags.