The Espresso Coffee Gift Box
Our Espresso Gift Selection Box is a collection of coffees designed specifically with Espresso in mind.
Beautifully presented in a black gift box, our Espresso Selection contains two 250g valve bags of coffee, a coffee caddy and information about each coffee.
For a special touch, why not add gift wrapping?
The Gift Box
Brazil Daterra Bruzzi
Delightfully full-bodied, this Brazil Daterra coffee originates from a farm esteemed for its high quality produce, sustainability and environmental welfare.
This is a Bourbon coffee grown on the Daterra Farm which consists of 216 micro farms each with individual characteristics. Daterra is a leader in sustainable production and innovation in the coffee industry, and were the first farm in Brazil to become Rainforest Alliance certified.
Daterra use a variety of beans grown in 'terroir' across the farm to create this coffee which especially suits espresso. This blend of beans is named "Bruzzi" after the Arbruzzo region in Italy.
Brazil Daterra Bruzzi produces a rich, full bodied mouthfeel with a hint of acidity. We roast it dark to unlock flavours of chocolate and cherry, with nutty notes.
For us, Brazil Daterra Bruzzi is unrivalled as an espresso coffee and use it as our house espresso at Duke Street.
1942 Blend
Specially created by David Higgins himself, 1942 Blend is our premium espresso blend.
We blend medium and dark roasted Arabica beans from small lot farms in Brazil, Colombia and Costa Rica to create a perfectly balanced cup. The result is a smooth, rich shot with notes of sweet caramel, powerfully fruity with no bitterness. A truly classic espresso coffee.
1942 Blend is a tribute to David's Grandfather and H. R. Higgins founder, Harold Rees Higgins. Harold began his business in 1942 because of his immense passion for roasting exceptional coffees.
Coffee Caddy
Store your coffee in style with our beautifully designed coffee caddy. 
Ann Louise created an original coffee bean print used for the tiles and wrapping paper in the shop and cafe. This striking print has now been translated to a coffee caddy, which forms part of an exclusive Ann Louise Roswald collection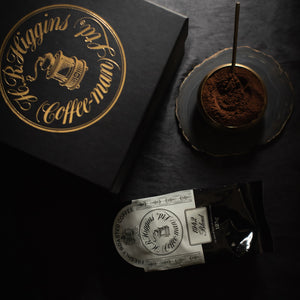 My grandfather had a vision. Back in the 1930s when he was working as a manager at the Kenya Coffee Company coffee was not seen as a speciality at all. He wanted to start his own business and in his diary he wrote:
There's something undeniably captivating about the aroma of freshly brewed coffee.
In this blog post, we'll explore why fresh coffee reigns supreme over its counterparts and why the roasting date takes precedence over the best-before date on all of our H.R.Higgins coffee bags.