The Higgins Gift Box
The Higgins Gift Box is a collection of our best selling coffee and tea.
Beautifully presented in a black gift box, our Higgins Gift Box contains one 250g bag of coffee ground for cafetière and two 125g bag of teas. These are accompanied with our beautiful caddies along with information about each product.
The Higgins Gift Box
Creole Blend and Coffee Caddy 

Created by Harold Higgins in the 1950s, this blend is a mixture of South American beans from Colombia and Brazil, roasted dark to produce a coffee that is powerful, rich and very smooth.
With notes of dark chocolate and rich cacao, this blend has become very popular as an after-dinner coffee, but the refreshing blackberry finish makes it perfect for all occasions. Ground for cafetière.
Duke Street and Tea Caddy 
Taking its name from the street of our shop in Mayfair, Duke Street Blend is one of our best sellers. This blend is wonderfully versatile and can be enjoyed at any time of day.
Blue Lady and Tea Caddy  
Our famous Blue Lady tea is one of the best selling and most popular on our list. A refreshing tea with a delicate perfume, a perfect balance between the fruity and the floral.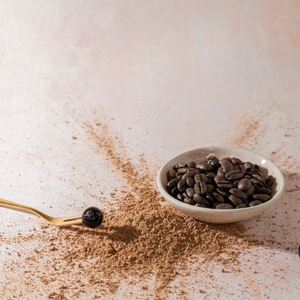 My grandfather had a vision. Back in the 1930s when he was working as a manager at the Kenya Coffee Company coffee was not seen as a speciality at all. He wanted to start his own business and in his diary he wrote:
There's something undeniably captivating about the aroma of freshly brewed coffee.
In this blog post, we'll explore why fresh coffee reigns supreme over its counterparts and why the roasting date takes precedence over the best-before date on all of our H.R.Higgins coffee bags.